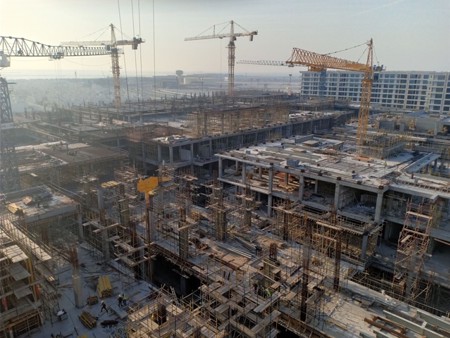 Bahrain's new luxury shopping mall to receive quality SAS treatment
Located on the shores of Diyar Muharraq, in the up and coming Marassi district of Bahrain, the Marassi Mall is set to become the country's premium shopping destination.
The new complex will cover an area of approximately 200,000 square-meters and includes an entertainment area, aquarium and multiplex cinema. SAS International have been invited to work on this highly complex project, which will require numerous SAS ceiling systems to achieve the client's desired result.
The extensive project will include 4,000m2 of real timber ceilings and 15,000m2 of sublimated and anodized wood finish external ceilings, specifically designed to withstand the toughest external environments.
The use of sublimated and anodized finished ceilings is one of the most crucial elements of the project. Sublimination uses heat to transfer patterns onto surfaces such as metal, providing added benefits such as durability, design creativity and the ability to withstand the external environments in the Middle East. This is an ideal application for commercial buildings such as a shopping mall.
The anodization process protects and enhances the appearance of aluminum making the product more resistant to corrosion and improves durability. It lasts longer than untreated metal and does not add anything to the metal – it remains 100% pure aluminum and 100% recyclable.
Around 6,000m2 of SAS335 system triangular ceilings with customized perforations will be used to create an eye-catching aesthetic, alongside more bespoke elements. SAS200 is one of SAS's most adaptable systems and is ideal for bespoke applications. These square-edged tiles fit any module size or shape (within its material perimeters) and are fully demountable without the need for access tools.
SAS150 – a suspended metal ceiling system with clip-in modular tiles and concealed grid – will allow easy access to the ceiling void for maintenance, and can be easily cleaned without being displaced. The black pearl finish reinforces the desired aesthetic look for a premium shopping complex.
"The client sought the most complex and aesthetically pleasing ceilings on the market to ensure that Marassi Mall stands out from the rest," explains SAS Middle East General Manager, Shaun Brecher. "It will be sure to break the headlines during its inauguration."
"The solutions we have specified tick all the client's boxes: aesthetic, acoustic & accessibility of services for routine maintenance."
Additionally, SAS500 will provide an enhanced acoustic solution thanks to its linear baffle system, which is directly suspended from the soffit for exposed applications. The highly robust and sturdy SAS720 system provides ideal service integration and offers great creative flexibility.
The extensive nature of the project, alongside strict guidelines put in place by the client, meant that there were several challenges to overcome. "SAS worked tirelessly to meet the clients demands, beating its competitors in terms of service, quality of materials and price. It was for this reason that SAS were selected for the project."
The Marassi Mall is due for completion in June 2021.